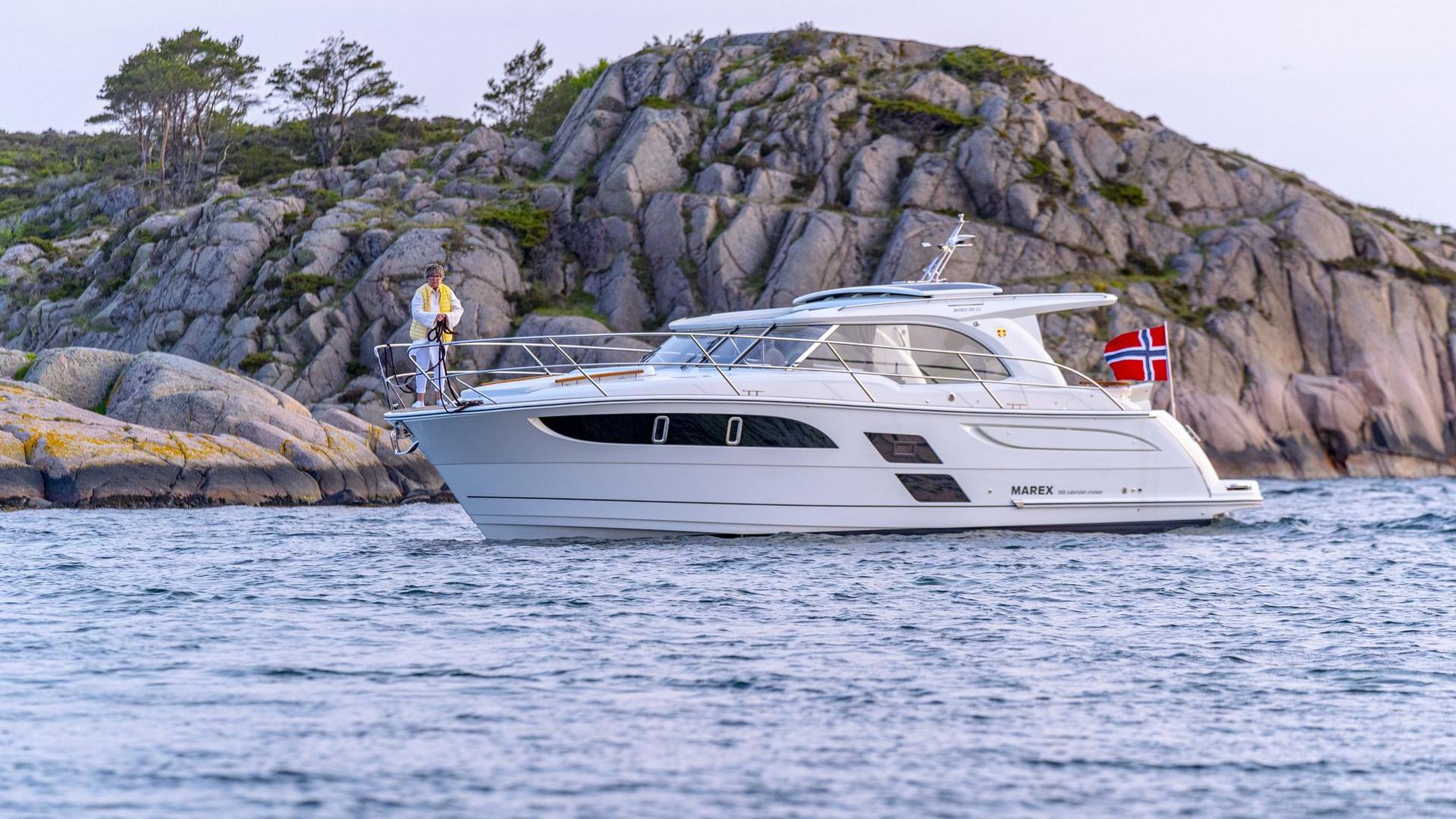 Design
he Marex 360 Cabriolet Cruiser is a full planning open cabin cruiser, with one of the largest convertible cockpits in its class. No boat under 40 feet features a larger cockpit area than the new Marex 360 CC. The popular solutions from the previous model – 350 Cabriolet Cruiser can be recognised and has been developed and implemented in this new, magnificent model.
Where are you spending time in the boat? By removing a saloon below deck and devoting the space saving to a larger cockpit area, this boat is designed for those who spend little time below decks. We focus on making the space in the cockpit perfect. An amazing 10 people can be accommodated around the table. The luxurious seating area is the perfect place to entertain! Modern storage innovations encompass expanded waterproof containers under the seats.
A handy door in the windscreen affords quick, safe and easy access to the foredeck, although the generous 28 cm side decks also allow easy movement around the boat. A well-designed helm position, excellent dashboard ergonomics and clear instrumentation provide a comfortable drive, while the spacious triple co-pilot seat assures an exciting experience for the whole family.
The boat has a few engine options: 1 x Volvo Penta D6-400 (approx. top speed – 31 knots); 2 x Volvo Penta D4-320 (approx. top speed is 40 knots) or 2 x Mercury Diesel TDI 3.0L 270.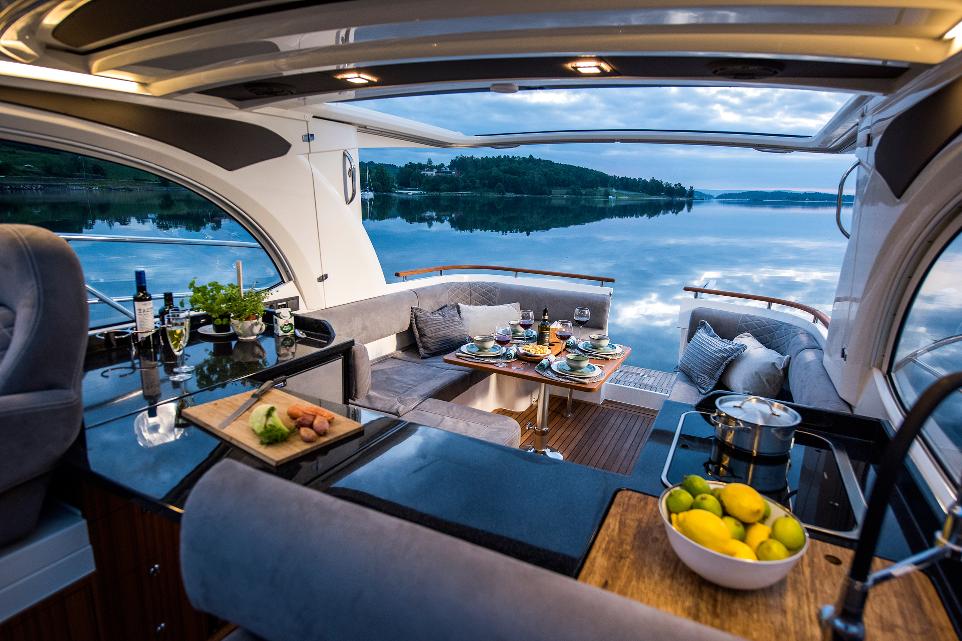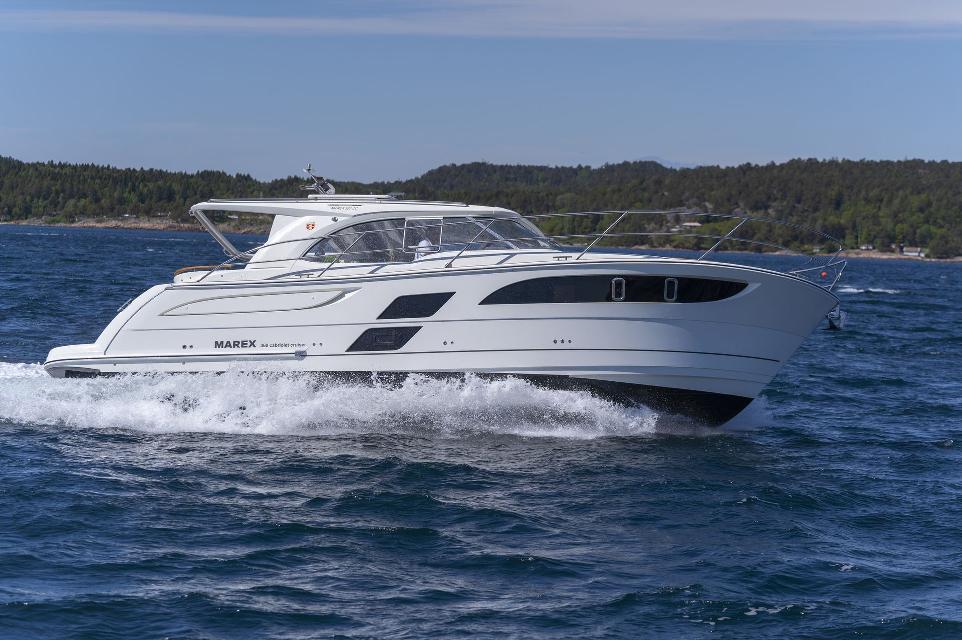 AWARDS
WINNER | BoB Best of Boats 2019

Marex 360 CC has won the Best of Boats Awards 2019 prize in the category - BEST FOR FAMILY. Prior to this win - 18 international jury members tested over 150 new boats and announced the finalist the Cannes Yachting Festival 2019. The BoB Award was presented to the head of Marex Espen Aalrud at an award ceremony in Berlin..

HIGHLY COMMENDED | MOTORBOAT AWARDS 2020

The award is made by the technical team from MotorBoat & Yachting Magazine. The awards are firmly established as the motorboating industry's ultimate definition of excellence in design, innovation and manufacture. "This is one of the cleverest boats we tested last year, designed with the sort of ingenuity and attention to detail that the Scandinavians are rightly known for." Motorboat & Yachting
NOMINEE | POWERBOAT OF THE YEAR AWARDS 2020

The expert jury of the European Powerboat of the Year consisted of editor's from the leading European boat magazines and selected Marex 360 CC to be nominated for the Powerboat of the year 2020 title. This prestigious prize is always awarded in the beginning of the year at Dusseldorf International Boat show.

Specifications
Hull type Planning

Length 11.49 m

Beam 3.49 m




Depth (single engine) 1.10 m




Depth (twin engine) 0.97 m




Displacement (light) 7700 kg




Passengers B: 10 / C: 12




Berths 4 + 3




Fuel Tank 750 l




Water Tank 350 l




Water Heater 60 l




Blackwater Tank 190 L




Batteries 4x service, 1x per engine





CE Category B / C




Design Marex & Nikl design




Master bed (front cabin) 2,00 x 160 M

Guest bed (mid cabin) 2,00 x 1,80 M




Sunbed 1,95 x 1,45 M




Canopy headroom (front) 1.97 m




Canopy headroom (pantry) 1.93 m




Canopy headroom (sitting area) 2.10 m

Cockpit headroom (minimum) 1.92 m

Front cabin headroom 1.93 m

Mid cabin headroom (changing area) 1.92 m

Mid cabin headroom (entrance) 0.94 m

Mid cabin headroom (above bed) 0.64 m

Outside cockpit (length of centered sitting area) 2.00 m

Bathing platform (long version) 1.20 m

Bathing platform (short version) 0.70 m

Height without cradle incl. mast 4.40 m

Height above waterline without mast 2.96 m

Width of sidedecks (minimum) 0.28 m