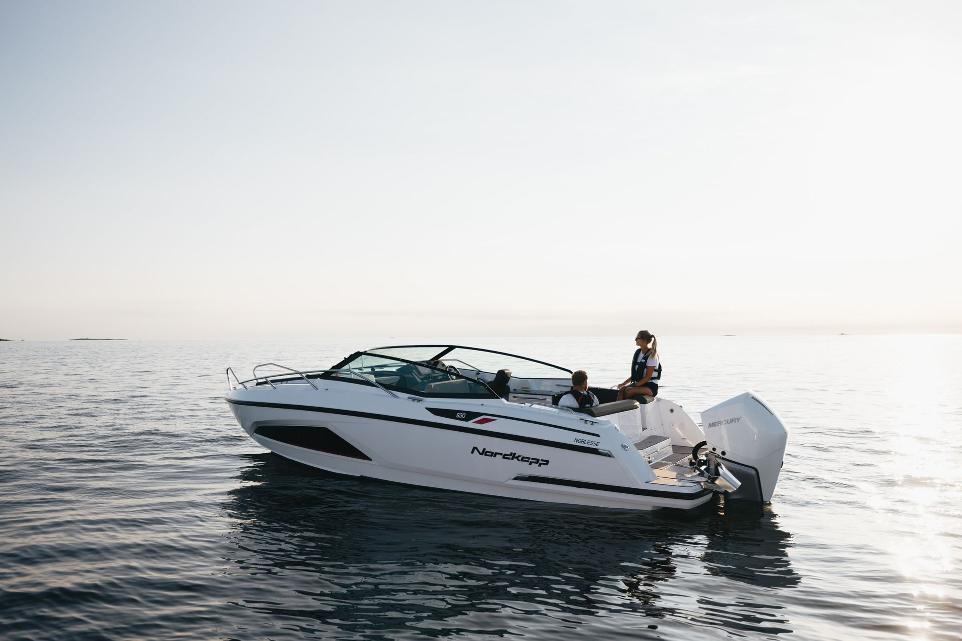 Design
he design elements from the Noblesse 660 and 720 is easilly spotted in the newest addition to the family: The Noblesse 830.
The Noblesse 830 is a brand new boat from Nordkapp, available for ordering from the autumn of 2022 and deliveries from 2023.
You will quickly recognize the Noblesse 830 as a Nordkapp. This boat really has the shapes, design and details which this model series is famous for and with both inner and outer measurements which has grown in size you will immediately experience a larger volume inside this vessel. The lines of the Noblesse 830 gives the boat an exclusive, modern and clean expression.
Noblesse 830 continues the new Nordkapp line up, offering a separate toilet room as well as a separate second sleeping quarters.
The separate second sleeping quarters has a width og 1,4 meters, providing a comfortable and large space to sleep. This area also has a window facing the aft deck, providing natural light into the cabin. The Noblesse 830 can be equipped with an extra top mattress to further increase sleeping comfort.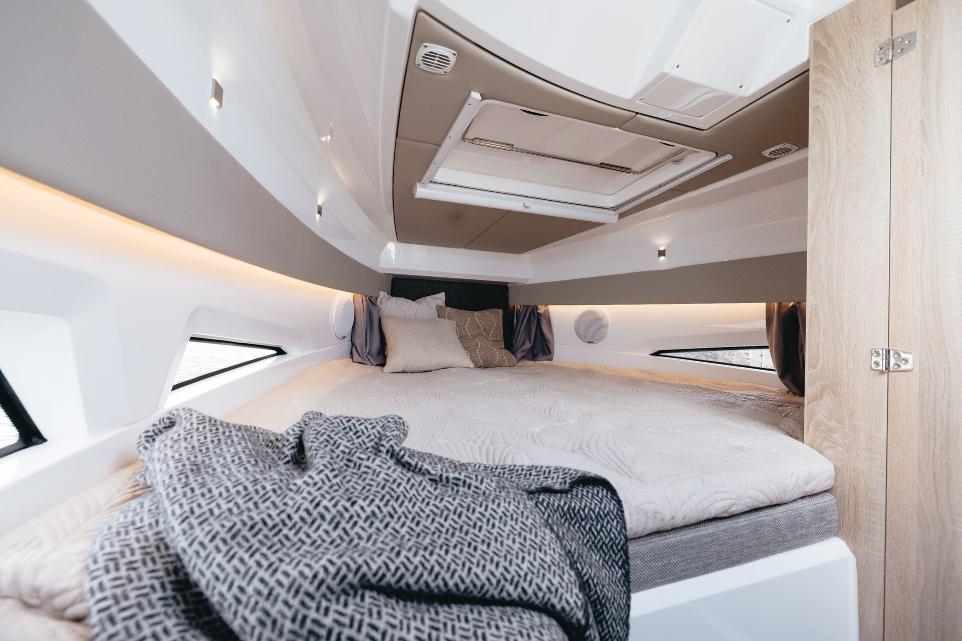 Sportiness
The low profile gives you an impression of a sporty boat and you can easilly spot a Noblesse 830 at distance. The shielding from wind is maintained with a combination of a smart cockpit floor and a high freeboard. This ensures that you are always feeling safe and warm when seated in the cockpit area.

Comfort & Technology
Noblesse 830 introduces a range of functionalities, providing you several new benefits, whether you use the boat for day trips, weekend tours or as a holiday destination. Raise the level of comfort with;
Webasto heater (optional equipment). It ensures a comfortable temperature, regardless of what time of year you decide to go out for a boat trip.
The heated water system (optional) facilitates easier living on board. Dishwashing, showering and cleaning is made simpler, and what could be better than a warm shower after a cool morning swim?
Sunbeds. Noblesse 830 really has several areas for relaxation, our favorite is definitely the sunbed in the bow. Here, you can tilt the backrest. This sunbed is wide enough for two persons to comfortably relax. A perfect place to spend the day if you decide to on anchor and just enjoy. You will also find a large sunbed in the cockpit, and sunbeds with cushions on the bathing platforms.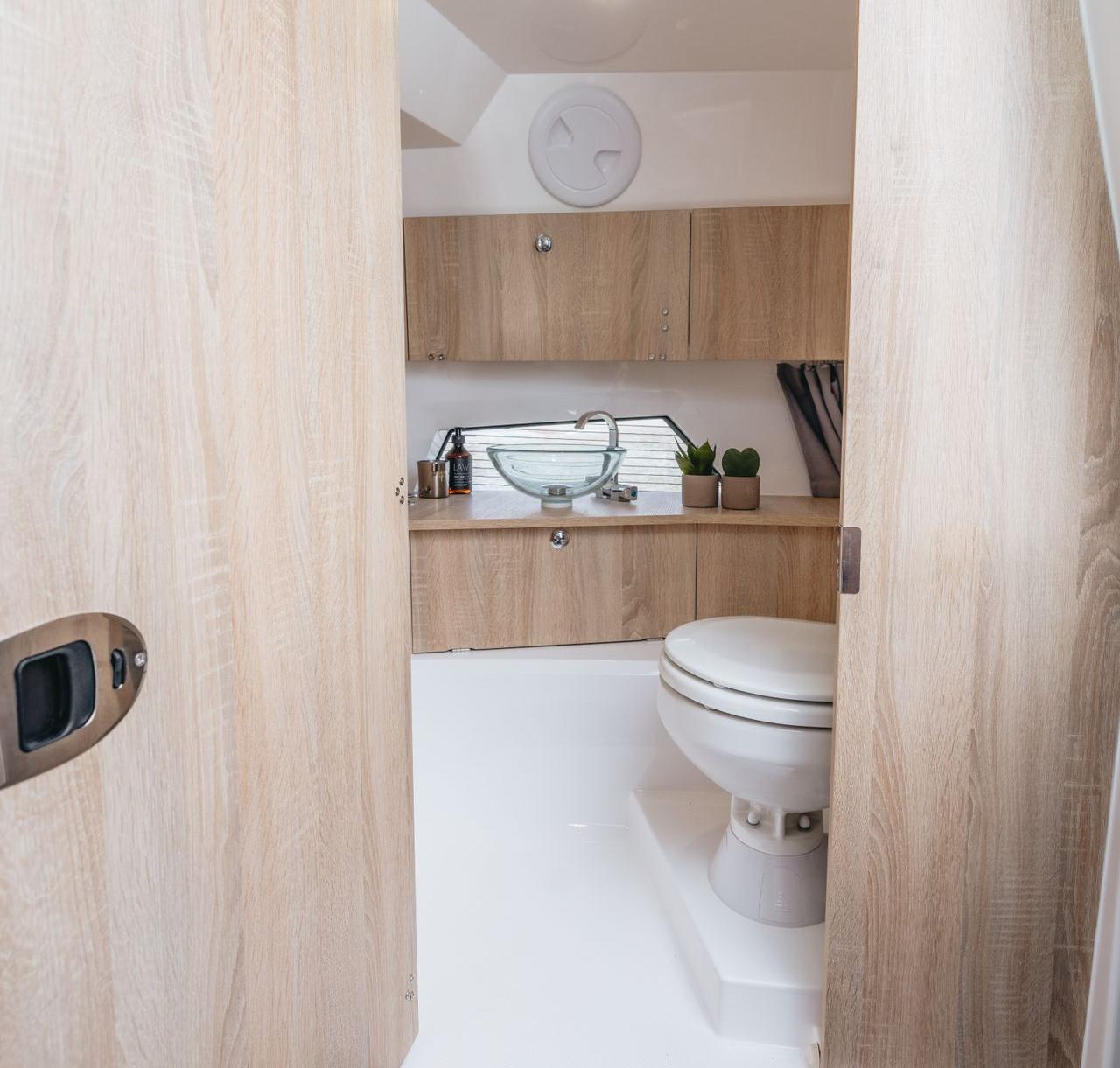 Length 8.30 m

Beam 2.92 m




Net Weight 2.100 kg




Boat Height 2.23 m




Fuel Tank 340 L




Water Tank 45 L




Septic Tank 45 L



Engine power 300 - 500 hp

single or twin outboard installation

Engine Stem length XL




CE Classification C




Max Pasengers 10




Berths 4




Max speed 55 knots

with twin 250 HP

Cruising Consumption tba
EVERY Noblesse 830 COMES FULLY EQUIPPED WITH

3 batteries

Bow thruster

Cockpit table

Electric toilet with tank

Fender garage

Attaches to fenders

Canopy

Refrigerator

Pantry

Roller blind for air hatch in cabin

Cupboard in pantry w/cupboard door

Cupboard w/cupboard doors in toilet room (N830)

Living room in cabin

Ceiling light in toilet room

Preparation table in pantry

Stairs in the cabin

Water tap in pantry

Windows in hull sides

Windscreen wiper port
Pricing and equipment options for Noblesse 830.